We're living through an historic moment. Whatever your political persuasion, your constitutional sensibility, your race, economic status, gender, sexual orientation, or country of origin, this recent election cycle has created a cultural and political watershed, and only in hindsight will we be able to process, make sense of, and understand its broadest implications.
Now, as in past periods of unrest, we need oral historians. We need trained practitioners to listen, to document, to preserve, and to share the stories of people throughout the nation – and across the world – who are effecting and affected by the events taking place all around us.
In this spirit, OHMAR is launching its first-ever #GivingTuesday campaign, to raise funds for student scholarships to attend our 2017 annual meeting in New York City.
#GivingTuesday, launched in New York in 2012, serves as a counterpoint to Black Friday and Cyber Monday, kicking off the holiday season in the spirit of giving back to the communities that we hold most dear. In 2015, the campaign saw 700,000 donors from 71 countries contribute a total of $116.7 million to organizations, charities, and causes across the globe. That's an average of $107 per donation.
At OHMAR, our goal is to raise $3,000 between now and December 31, 2016, with 100% of the proceeds directed toward our student scholarship campaign. If 75 people donate $40 each, our inaugural #GivingTuesday effort will be a success.
So join us on Tuesday, November 29 to support our mission to train the next generation of oral historians. Donate, facebook, instagram, and tweet about the campaign with the hashtag #GivingTuesday – and if you're feeling really ambitious, include an #unselfie to document your efforts!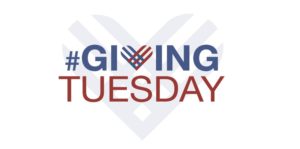 ---
Abigail Perkiss is the Vice President of OHMAR and an Assistant Professor in the Department of History at Kean University