OHMAR is a voluntary, tax-exempt non-profit, which is governed by an elected Board of Officers and at-large members. The current Board of Officers as of 2021 comprises:
Melissa Ziobro
President
Melissa Ziobro presented at her first OHMAR conference in 2011, began serving as an at-large board member in 2016, and assumed her first two year term as President in 2019. She is the Specialist Professor of Public History at Monmouth University in West Long Branch, NJ, and the primary point of contact for their public history minor. Her service to the University includes administration of the Monmouth Memories Oral History Program and the Department's social media and newsletter. She serves as the campus coordinator for the National History Day program, and the faculty advisor for the History and Anthropology Club.
Melissa currently serves as the President of Oral History in the Mid-Atlantic Region and as the editor for New Jersey Studies: An Interdisciplinary Journal. She is currently a trustee of the NJ Vietnam Veterans Memorial Foundation, InfoAge Science and History Learning Center, and Ocean County Historical Society. She is newly appointed to the Board of Directors of Preservation NJ, and works regularly with other public history organizations throughout the state. She worked as a command historian at the U.S. Army Communications-Electronics Command, Fort Monmouth, NJ from 2004-2011.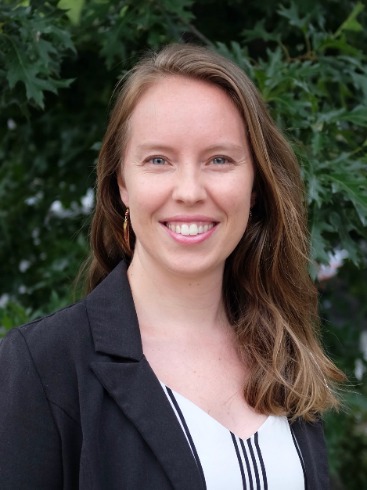 Anna F. Kaplan
Vice-President
Anna F. Kaplan is an independent historian and oral historian whose work focuses on issues of race, memory, and historical narratives. She serves as the Vice President of Oral History in the Mid-Atlantic Region and Co-Chair of the Oral History Association's Diversity Committee. She has worked on oral history projects with the Archives of American Art and the National Park Service, exhibits and walking tours with multiple Smithsonian Institution museums, and helped establish the DC Oral History Collaborative supporting local community projects throughout Washington, DC. Her current projects include a book manuscript about the memory of the University of Mississippi's desegregation and a research project on Black women's labors in establishing oral history programs or centers in the US. She also teaches courses on US history and oral history at American University and UDC. Recently, Anna published the article "Cultivating Supports while Venturing into Interviewing During COVID-19" in the Oral History Review and organized the virtual panel "In Our Own Words: Deaf Perspectives in Oral History and Public History" sponsored by the National Council on Public History, the Drs. John S. & Betty J. Schuchman Deaf Documentary Center at Gallaudet University, the Public History Program at American University, and the Oral History Association. She is also the recipient of the 2020-2021 Study the South research fellowship from the University of Mississippi and a participant of the 2021 NEH Summer Institute "The New Deal Era's Federal Writers' Project: History, Politics, and Legacy."
Catherine Mayfield
Secretary
Catherine Mayfield is the France-Merrick Director of the H. Furlong Baldwin Library at the Maryland Center for History and Culture. Catherine oversees reference services and collections management for the Library's more than 7 million items, including its oral history collections. A Certified Archivist, Catherine gained a particular passion for oral history while managing the oral history collections of the Mill Valley Public Library in Northern California. Her work has included the creation of guidelines for oral history processing and interviewing, and increasing accessibility to oral history collections in person and online. Catherine enjoys working with narrators and interviewers, preserving stories that may otherwise be neglected and marginalized, and using the power of lived experience to engage communities with history. Catherine is active in the local historical and cultural community, and is a member of the Mid-Atlantic Regional Archives Conference, the Society of American Archivists, and the Oral History Association (OHA). Catherine served as the Local Arrangements Co-Chair for OHA's 2020 Annual Meeting and is OHA's Membership Committee chair.
David J. Caruso
Treasurer
David J. Caruso served as an At-Large Board Member, Vice President, and President of OHMAR; he is currently the organization's Treasurer. David is the director of the Science History Institute's Center for Oral History, working on numerous oral-history-based projects, including those that focus on the role that presidential science advisors play in science and technology policy in the United States (NSF-funded), on immigration and science and engineering (NHPRC-funded), on the relationship between science and disability, on the ways in which LGBTQ scientists and engineers navigate professional structures, and on minorities in science and engineering. Caruso also conducts the center's biannual Oral History Training Institute, a week-long workshop designed to introduce historians to the oral history methodology and is the editor of the Oral History Association's journal, the Oral History Review. David received his doctoral degree in science and technology studies from Cornell University, where he worked on the history of American military medicine before, during, and after World War I and on the creation, dissemination, and use of automated external defibrillators in the mid- to late 20th century, and he received his undergraduate degree in history of science, medicine, and technology from Johns Hopkins University.
Jillian Decker Fyfe
Development Director
Jillian Decker Fyfe, CFRE, currently serves as the Director of Development for OHMAR. Jillian is the Director of Development and Communications for the Visual Arts Center of New Jersey in Summit, NJ. Jillian's research interests include asset framing, authentic storytelling, material culture, art-in-healing, and arts education. Jillian's research has been presented at various international conferences, taking her to Greece, England, Spain, and, most recently, Argentina.
Owens Rogers
Communications Director
Owen Rogers is a Public Historian at the Library of Congress in Washington, DC. As a Liaison Specialist for the Veterans History Project, he leverages oral history fieldwork and institutional experience to advance the Veterans History Project, a user-sourced archive of veterans' oral histories, manuscripts, and media. His chief interests are the intersections of oral history and intuitive software, as well as the expansion of radical trust within traditional collecting institutions.
Rogers is the Communications Director for the Oral History in the Mid-Atlantic Region organization with prior service as an At-Large Board Member from 2017 – 2021. He also serves on the New Jersey Vietnam Veterans' Memorial Foundation Museums Committee and his project experience includes CT Humanities' Connecticut History Online, the Central Connecticut State University Veterans History Project, the Yale University-New Haven Preservation Trust's New Haven Oral History Project, and the D.C. Public Library People's Archive. He received a Master of Arts degree in Public History from Central Connecticut State University and a Bachelor of Arts degree in History from the University of Connecticut. Rogers is a recent graduate of the Library's Leadership Development Program, a 12-month competency based training program for employees from diverse backgrounds that culminated in a supervisory detail at the Congressional Research Service's Knowledge Services Group.
Lucas Wilson
At-Large Board Member
Lucas Wilson is a PhD candidate in Comparative Studies at Florida Atlantic University, writing his dissertation on second-generation Holocaust literature and oral history. He holds an MA in English from McMaster University, as well as an MTS from Vanderbilt University. His academic work has appeared in Canadian Jewish Studies and Flannery O'Connor Review and in edited collections published by The MLA, SUNY Press, and DIO Press. His public-facing work has appeared in The Advocate, Queerty, LGBTQ Nation, and RVA Magazine. He is also the recipient of the 2021 Martha Ross Memorial Prize for his queer oral history project of Liberty University. He currently lives in Toronto and teaches at University of Toronto and Seneca College.
John Horan
At-Large Board Member
John Horan is the Oral Historian for the State Archives of North Carolina. He received a master's degree in History with a Museum Studies Specialization from Cleveland State University (CSU). At CSU, he began understanding the craft of oral history through the Center for Public History and Digital Humanities where he spearheaded and consulted on several Cleveland Regional Oral History Projects. He is also a PhD candidate in the field of Public History from Arizona State University (ASU). While completing his coursework at ASU, John Horan honed his abilities as an oral historian through his work as the Legislative Oral Historian for the State Library, Archives, and Public Records of Arizona. In 2019, he created a commemorative oral history project for the Sixtieth Anniversary of Pittsburgh Theological Seminary. Currently, he lives in Raleigh and is working on a COVID-19 Government Employee Oral History Project seeking to understand the professional and personal impact of the pandemic on state government employees in North Carolina.
Patty Chappine
At-Large Board Member
Patty Chappine is an At-Large Board Member of OHMAR. She is an adjunct professor in the Holocaust and Genocide Studies graduate program at Gratz College, at Stockton University where she teaches courses in Historical Studies, and at Centenary University where she teaches literature of the Holocaust. She earned a B.A. in Sociology and an M.A. in Holocaust and Genocide Studies from Stockton University. She also earned an M.A. and a Ph.D. in History and Culture from Drew University in Madison, NJ. Her research interests include Holocaust and genocide studies, women's history, New Jersey history and civic activism.
Carol Fowler
At-Large Board Member
Carol Fowler is currently the Assistant Curator at the National Guard Militia Museum of New Jersey. Her oral history career began when she worked as an Associate Producer of a college television show titled Triumphant Spirit Series: America's WWII Generation Speaks. She then began conducting veteran interviews with History Mentor Paul Zigo and his project, The Center for WWII Studies and Conflict Resolution, and was hired to help establish an oral history program at the National Guard Militia Museum of New Jersey in 2001. Over the years since, Carol has conducted over 600 interviews with veterans from World War II to the present, has been commended by the Library of Congress.
Molly Graham
At-Large Board Member
Molly Graham is a professional oral historian and radio documentarian. She trained at the Salt Institute for Documentary Studies in Portland, Maine where she produced the award-winning radio documentary, Besides Life Here, which has been licensed by several National Public Radio affiliates. She has her master's degree in Library Science and Archives Management from Simmons College in Boston.
Molly is the former director of the oral history program at the Wisconsin Veterans Museum and Assistant Director of the Rutgers Oral History Archives. In 2013, she co-founded Oral History & Folklife Research, Inc., with the mission of preserving the stories, voices, and cultural traditions of Maine and beyond.
Currently, she is the oral historian for NOAA's Voices Oral History Archives, where she collects, preserves and curates oral histories documenting historical environmental change and its impacts on fisheries, oceans and coasts.
Please reach out to Molly with introductions, questions and, of course, stories.
Meave Warnock Sheehan
At-Large Board Member
Independent Oral Historian